Then I got lazy and used two boxes of Stove Top Stuffing (turkey flavor cuz that's what Giant Tiger had on sale!) as the top crust.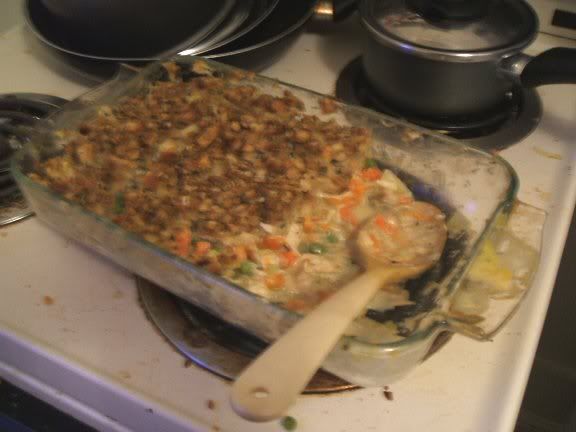 It almost bubbled over entirely. The dish was way too full. IT IS DELICIOUS, OMG. And incredibly filling. But despite my hour-or-more of concentrated kitchen effort, I rendered the dish trashy and questionable by my choice of topping. Oh well. I still wanna share.
STOVE TOP POT PIE, the Hard Way
1-2 cups cooked chicken
1 cup diced carrots
1 cup diced cellery
1 finely chopped onion
1-2 cloves of finely chopped garlic
1/3 cup butter
1/3 cup flour (or so)
2 cups chicken broth
2 cups milk
1 cup peeled and cubed potato
1 cup peeled and cubed sweet potato
1 cup frozen peas, thawed
2 boxes of Stove Top Stuffing of your choice
Take your leftover chicken and chunk it all up nicely. (What, you didn't have leftover chicken? Neither did I! I just had one huge uncooked chicken breast. So I whapped it into 4 chunks, put it in a pot, covered it in water, tossed in the peels from 1 carrot and the ends of my onion, and some herbs and junk, and simmered it while I chopped everything else. I strained the liquid and got about two cups of 'chicken broth', woot!)
Peel and dice up all your veg. Like I did. I HAD TO SUFFER, SO DO YOU.
Take a big ol' pot with a good sturdy bottom, and melt the butter in it. Throw in the carrot, cellery, onion, and garlic, and add a bit of salt and pepper. Stir until the onions and cellery start to soften. Then shake in the flour, stirring like crazy. (Yeah, it's supposed to get all pasty.) Cook it for 1 minute, then add your milk and broth and stir. Raise heat to boiling, toss in your potatoes/sweet potatoes, and lower it to a simmer and KEEP STIRRING IT OMG. (It's sticky.) Do this for 15 minutes, or until the potatoes are soft. Add in the peas and chicken somewhere during this step, too.
Get a big honkin' casserole dish and pour this delightful mixture into it. Prepare the stuffing according to package directions. Wrestle with stuffing as you attempt to place it evenly atop the chickeny-stuff-in-a-casserole-dish. Put it in the oven at 350 degrees and bake for 25 minutes.
Oh SURE, you could have used a real crust... but ehn. The stuffing has a certain bready appeal.
So close! I WAS SO CLOSE. I was cooking intensely, poaching my chicken and reserving the stock and dicing all those carrots and potatoes and melting the butter and making a roux and thickening and stirring... it was gonna be my first ever TOTALLY HOMEMADE OMG chicken pot pie.
Current Mood:

satisfied